Eton College hunting horns reunited with dead soldier's family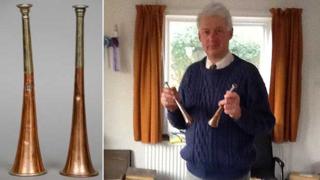 A pair of Eton College hunting horns, owned by a soldier killed during World War One, have been reunited with his family 100 years later.
The horns, inscribed 1915-16, were owned by Derrick Eley, who was killed in France in 1917.
One of his relatives, Rupert Eley from East Bergholt in Suffolk, was told they had been found during a house clearance in Bury St Edmunds.
He successfully bid for them at auction in Newmarket for £150 for the pair.
The horns are inscribed with the initials of William Arthur Derrick Eley and were given to him when he was master of the Eton College Hounds.
'Sad and moving'
He left school in 1916 and was killed in the Somme in 1917 while serving as a second lieutenant in the King's Royal Rifle Corps. He was 19.
Roddy Lloyd, from Rowley's Antiques and Fine Art of Ely in Cambridgeshire, said: "When we were clearing out a large townhouse, I saw the pair of hunting horns and I realised there might be a connection with the Eley family in East Bergholt, who I had known for about 10 years.
"It was a rather sad and moving connection to find out this boy had been hunting hares one year and dead on the battlefield the next year."
Rupert Eley made the successful bid at auction. Derrick was his great grandfather's nephew.
"It's so special these are coming back here," said Mr Eley.
"We have a lot of mementos, such as his scrapbooks and medals, and it's lovely these are reunited. But we've no idea where the horns have been for most of the intervening period.
"His two sisters never had children, so it falls on us to remember him."