Domestic abuse support in Suffolk 'fragmented'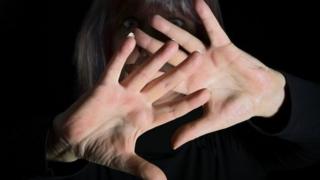 Support for survivors of domestic abuse in Suffolk is seen as "fragmented and confused", a study produced for the county's police and crime commissioner (PCC) has found.
The study by University Campus Suffolk talked to 69 survivors of abuse, as well as 16 police officers and 24 professionals working with survivors.
It found "considerable gaps" in help provided, particularly in rural areas.
PCC Tim Passmore said the study was vital in understanding the problem.
The study found that while some abuse survivors had positive views about police, others reported officers "being rude, lacking an understanding of domestic violence and abuse, and unhelpful".
It also raised concerns about "poor communication between police and survivors, the police and the Crown Prosecution Service (CPS), between different police forces and between police officers".
"Poor communication practices had serious safety implications in some instances for survivors and their families, and this undermined their confidence in the police to keep them safe," said the study.
It added: "Overall, the participants in the study felt that support for survivors of domestic violence and abuse in Suffolk is fragmented and confused with some areas of overlap but considerable gaps in service provision."
The study also found support services for the children of victims of domestic abuse were "inadequate to meet their or their parents' needs".
It recommends:
A fundamental review of how agencies communicate effectively between each other and with victims
A review of how Suffolk Police can work more effectively with police forces from other counties to ensure the safety of survivors in Suffolk
A comprehensive programme of education in order to ensure that children and young people are given information and advice on all types of abuse
Organisations providing support for abuse survivors need to clearly identify the services they are providing
Mr Passmore said he believed the research would help "us to formulate a multi-agency action plan so that we can greatly reduce this terrible crime".