Buttermarket shopping centre in Ipswich sold for £9.2m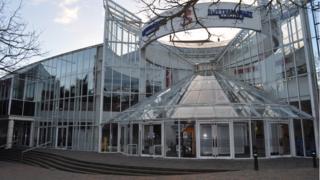 A shopping centre in Ipswich has been sold for £9.2m and is to be renovated.
The Buttermarket, which opened in 1992, was due to be given a makeover by Vue, but the cinema chain recently announced it was abandoning its plans.
Capital & Regional and Drum Property Group have formed a joint venture and bought the freehold for the centre from PR Ipswich Ltd.
They said there was a "tremendous opportunity" to "deliver a superior shopping and recreational experience".
Capital & Regional owns several shopping centres around the country, while Drum Property Group says it owns and manages an "extensive existing residential and commercial investment portfolio".
The group venture is called Buttermarket Ipswich Ltd.
Hugh Scott-Barrett, CEO of Capital & Regional, said: "We have a track record of revitalising in-town shopping centres, through improving the retail and leisure offer, the experience for shoppers and forging strong links with local communities."
The Buttermarket has 23 retail units and its list of shops includes Boots, TK Maxx and Laura Ashley.
Graeme Bone, group managing director of Drum Property Group, said the firm looked forward to delivering a much improved centre to be proud of.
Vue was granted planning permission in 2012 to open a nine-screen venue in the Buttermarket and did not give a reason why it abandoned plans.
Ipswich's Tower Ramparts shopping centre is also being redeveloped, and its name changed to Sailmakers.