Lowestoft traders see business plummet as beach fenced off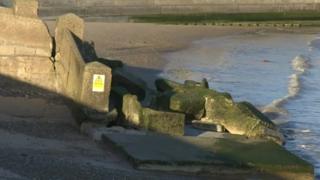 Part of a holiday beach in a Suffolk resort will remain shut through the summer season for repairs to damage caused by the storm surge in 2013.
The beach in Lowestoft was washed away and the surge finally broke up damaged breakwaters and ramps.
Waveney District Council said the work had to be done during the summer weather and before funding ran out.
Businesses relying on holiday visitors are now demanding a cut in rates as trade has been so seriously affected.
The affected part of the beach is between Lowestoft South Pier and Parade Road South, a popular area called Children's Corner.
Business plummeted
A barrier fence has been put up to prevent people from reaching the beach or sea in the area.
Councillor David Ritchie said: "Work will start in April and continue through to September but the far end of the beach will remain open throughout.
"We will have a beach back but not the one we remember from 30 or 40 years ago."
The £2.4m scheme will see a new granite breakwater offshore, restored groynes and promenade.
"The rock island, we hope, will allow the beach to be restored naturally," Mr Ritchie said.
Dennis Saggers, a seafront trader who said he speaking on behalf of colleagues, said visitors were dissuaded from coming to the area by the barrier and business had plummeted.