Ipswich Town bans young fans over 'flying balls' fear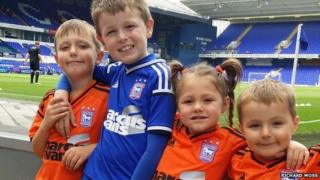 Young football fans are being banned from the lower tiers of Ipswich Town's ground after children were hit by "flying balls", the club said.
The Championship club said for "safety reasons" all under fives visiting Portman Road next season would have to sit higher up in the stands.
The move would only affect a "very small number" of people, the club said.
Supporter Richard Moss, who goes to the ground with four children, said being forced to move was "disappointing".
Ipswich said it had become concerned after seeing babies at matches.
Mr Moss, 39, said he would have to move his season tickets from the Sir Alf Ramsey stand as his son, Archie, did not turn five until November.
"We like where we sit, have made friends nearby and are now being forced to move," he said.
"You get Bluey and Crazee the mascots come along. We're only about six rows from the pitch so get a good view of the action."
Mr Moss said it would have been better to just warn parents of the possible dangers.
"If one of my kids got hit I'd be blaming myself that I wasn't watching to stop the ball," he said.
The club said there were 76 season ticket holders aged under five and anyone concerned about the move should contact the ticket office to discuss what could be done.
A spokesman said the plan was part of a move to encourage families to move to the East of England Co-op stand, which will have attractions prior to the match to make it "more attractive for families".