Edward Ardizzone honoured with Ipswich blue plaque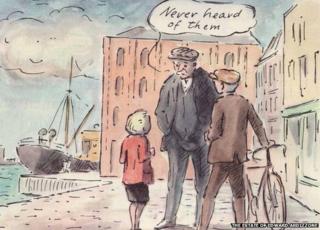 An author and illustrator, whose book Tim All Alone was named in the top 10 children's books of the past 50 years, is to be honoured with a blue plaque.
The plaque for Edward Ardizzone, winner of the inaugural Kate Greenaway medal in 1956, will be unveiled at Albion Quay on Ipswich's waterfront.
His daughter, Christiana Clemence, said the town had given her father "his love of the docks and little ships".
Ardizzone, who died in 1979, was best known for his series of "Tim" books.
Ardizzone was born in what is now Vietnam in 1900 and arrived in Suffolk five years later, spending much of his childhood in the care of his grandmother while his parents were on foreign service.
Ms Clemence said his childhood was not entirely happy, due to bullying, but his time in Ipswich played a "very important" part in shaping the maritime theme of his Tim series of books.
"He used to talk about hanging around at the harbour," Ms Clemence said.
"That's when he fell in love with the docks."
The plaque will be the 18th granted by The Ipswich Society.