School unveils plaque to Nobel-winning pupil Dorothy Hodgkin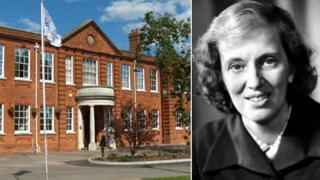 A plaque has been unveiled at the state school attended by the only British woman to have won a Nobel Prize in science.
Dorothy Crowfoot Hodgkin was a pupil at Sir John Leman Grammar School in Beccles, Suffolk between 1921 and 1928.
She was awarded the Nobel Prize for chemistry in 1964 for her work in working out the molecular structure of penicillin and vitamin B12.
The plaque was presented by the Society of Biology.
Ms Crowfoot Hodgkin, who lived across the River Waveney at Geldeston in Norfolk, was one of only two girls who studied science at the grammar school at the time.
Breaking barriers
Caroline Topping, Mayor of Beccles, said: "Fifty years later, I came to the school and was told I couldn't do woodwork because I was a girl and had to do cookery and needlework.
"Fortunately, girls were allowed in the science labs and I'm really pleased this plaque is going up in memory of Dorothy, because it breaks down the barriers between boys and girls and science."
Ms Crowfoot Hodgkin went on to study at Oxford and Cambridge universities and she later carried out research work with former prime minister Margaret Thatcher at Oxford.
The Society of Biology said she was one of the first people to use X-rays to study the structure of molecules.
David Urry, from the society, said: "The plaque is in recognition of biologists in the UK and specifically the discoveries they made which have changed the way we live."
Michael Taylor, acting head teacher at what is now Sir John Leman High School, said: "I think it's a huge inspiration for all scientists, but particularly for young girls."