Felixstowe Spa Pavilion will reopen later this year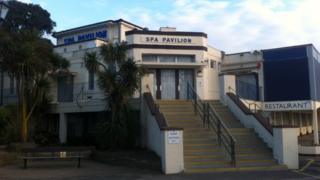 A boarded-up seaside theatre has been sold and will reopen later this year.
Felixstowe's Spa Pavilion opened in 1909 but closed when Suffolk Coastal District Council said it could not pay £250,000 a year to keep it open.
It has been sold to NRG Theatres, a group specifically formed to save the theatre, for an undisclosed fee.
The group has secured funding to refurbish the building, with initial work proposed for the front-of-house, kitchen, bar and restaurant areas.
The auditorium and back-of-house areas are due to be refurbished in 2016.
NRG said it wants to work closely with local theatre groups and community ventures to put the Spa on a "sustainable commercial footing".
Chief executive Ray Anderson said the group hoped to restore the 800-seat Spa, which closed in January 2013 after the council ended its subsidy to the private operator in charge, to its former glory.
"Although the theatre equipment is now very out-dated, we are confident that we can deliver the refurbishments, enhancements and contacts needed to attract the calibre of entertainment which will fill the theatre," he said.
Suffolk Coastal District Council said it was glad the venue would remain as a theatre.
Councillor Geoff Holdcroft said: "Over the past two years, there have been a number of critics who have suggested that the council demolish the theatre.
"I am delighted that our belief and perseverance has finally produced a result which I hope residents and visitors to Felixstowe, as well as the wider district, can support."
The deal will be finalised on 15 May.