White-tailed sea eagle travels towards Norfolk Broads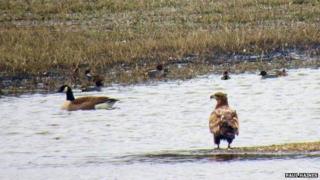 A rare white-tailed sea eagle - the first of its species to be seen in 80 years - has flown inland towards the Norfolk Broads, bird watchers report.
The bird, on the RSPB red list, was first spotted in Essex on 14 March.
Over the weekend it landed on a small island at the Mickle Mere Reserve near Bury St Edmunds in Suffolk.
Rare Bird Alert (RBA) said the eagle, probably from Europe or Scotland, had been seen near Sheringham in North Norfolk but had turned inland.
"This is a young bird looking for suitable habitat and the Broads are ideal," Brian Egan, from RBA, said.
White-tailed sea eagles had been spotted over several years passing through the area but there were no breeding pairs in East Anglia, Mr Egan said.
Inexperienced youngster
Many bird watchers were helping to track its movements using social media.
"It is a young bird in its second winter and has not yet developed its distinctive adult tail and white covering," Mr Egan added. "It is ringed so has been recorded somewhere.
"With a wing span of seven or eight feet (2 - 2.5m) it is by far the largest bird of prey in the British Isles and much bigger than buzzards or red kites.
"It is an inexperienced youngster and may be looking for a suitable breeding territory.
"On the wing it will grab fish close to the surface but will also feed on carrion, ducks, small birds and mammals."
Paul Haines, who lives next to the west Suffolk reserve, said: "It was a bit of shock to see an eagle like that out of the bedroom window on Sunday."
The last recorded sighting of the bird in west Suffolk was in the 1930s.