One person dies in Haverhill house fire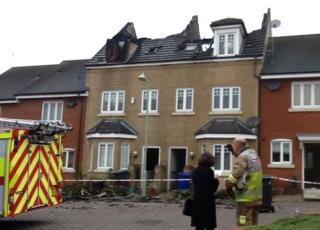 One person has died in a "serious" house fire which spread to a neighbouring home in the early hours of the morning, police have said.
A body, which has not yet been formally identified, was discovered inside the property on Bellings Road, Haverhill.
Suffolk Fire Service was called to the three-storey house just before 02:30 GMT.
Police have said an investigation into the cause of Thursday morning's blaze is under way.
Yvonne Wilde, a neighbour, said: "I saw the fire and it was absolutely horrendous.
"Neighbours could hear shouting for help, but then they couldn't hear it any more."
The fire service said its investigators would begin their work this morning.
Paul Goodman, station commander for Suffolk Fire Service, said: "Crews got in quickly, but there were difficult conditions with the roof collapsing around us and falling down on to the road.
"The fire spread through the roof, but fire crews have managed to stop it getting in to any further properties."