Suffolk police chief considers using unmanned drones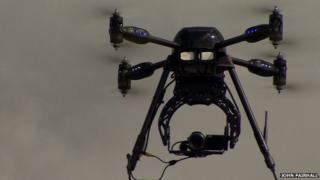 Remote-controlled drones could help Suffolk Police cut the costs of using helicopters, it has been suggested.
Police and Crime Commissioner Tim Passmore proposed the move to address the £800,000 annual bill for the National Police Air Service (NPAS).
Drones could help survey borders, monitor organised crime and combat people trafficking, he said.
Alternatively, he suggested, all the county's blue-light teams could share one helicopter to help keep costs down.
Speaking to the BBC, Mr Passmore said the force's bill for the helicopter was calculated on a historic basis and he considered it too high.
Suffolk has to pay £800,000 a year for 250 flight hours but Norfolk pays less at £360,000 for fewer hours every year.
'Very useful'
Currently the helicopter is based at Wattisham Airfield and is run by NPAS but in two years' time it will move to a new station at Boreham, near Chelmsford, Essex.
The move would mean extra journey time for operational work done in Suffolk and possibly extra cost, said Mr Passmore.
"I made it quite clear that we will not be paying that money," he said.
Discussions with acting chief constable Gareth Wilson have been held and alternative ways of spending money are being sought, including unmanned drones.
Some drones, with infra-red camera capabilities could be used to help all manner of challenges the force faces, including improving border safety and monitoring organised crime, he said.
"We're looking at all the options extremely carefully so that we can keep people safe," he added.