Lowestoft mother Denise Davies 'died of natural causes'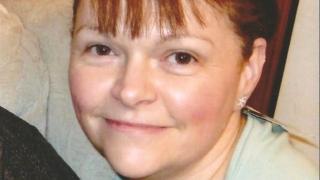 A mother-of-two died of natural causes after becoming dehydrated at a mental health unit in Suffolk, a coroner has ruled.
Denise Davies, 45, of Lowestoft, died in June 2013 after being admitted to the town's Carlton Court unit.
She was under observation at the unit after her health deteriorated.
Coroner Jacqueline Lake said neglect could not be included in her conclusion. The family said they were "not satisfied" and "felt let down".
Her family's solicitor John Coughlin had told the inquest in Norwich there had been "systemic failures".
Both the mental health trust and The James Paget Hospital in Gorleston, Norfolk, said lessons were learned in the case.
The inquest heard Mrs Davies, who had been her husband's registered carer for three years, had a 10-year history of depression.
She was admitted to Carlton Court, which is run by the Norfolk and Suffolk Foundation Trust, after threatening to injure herself.
Nick Oligbo, medical director at the James Paget University Hospitals NHS Foundation Trust, said offered his condolences to her family who had listened to the evidence "with great dignity".
"The coroner acknowledged that doctors are right to take the issue of patient consent very seriously," he said.
"Our doctors did all they could to try to establish if Mrs Davies should be forcibly treated given her particular circumstances.
"We have done all that is possible to support the coroner in her work and will now consider carefully her detailed findings before taking appropriate action in the interests of our patients."