Suffolk Police appoint new deputy chief constable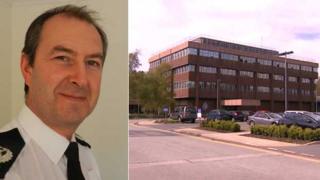 Suffolk Police, whose chief constable is on extended sick leave, has appointed a new second-in-command.
Stephen Jupp, who is assistant chief constable in Nottinghamshire, will take up the post of temporary deputy chief constable in Suffolk in April.
The force's chief constable Douglas Paxton has been off on sick leave since December.
Deputy chief constable Gareth Wilson has been acting-up in Mr Paxton's post since February.
Suffolk Police said deputy chief constable was a more senior rank than assistant chief constable.
Mr Wilson said: "Stephen is an officer with a wealth of experience, having service with the Metropolitan Police, West Midlands Police and Nottinghamshire Police."
Suffolk Police has not revealed the nature of Mr Paxton's illness.
Last month, Suffolk's police and crime commissioner Tim Passmore denied having a "bust-up" with Mr Paxton and said claims his continued absence was linked to poor relations between the pair were "a load of old tosh".