Colin Noble to replace Suffolk County Council leader Mark Bee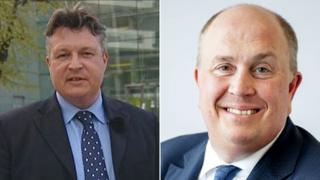 Suffolk County Council's ruling Conservative group has selected a new leader, after its previous chief stood down.
Colin Noble was voted in as head of the Conservatives and will replace council leader Mark Bee, who announced he was quitting last week.
His appointment comes a year after an unsuccessful attempt to oust Mr Bee.
Row Heath councillor Mr Noble was later dropped from the cabinet by Mr Bee, who has led the council since 2011.
Mr Noble, who lives in Lakenheath, said he was "absolutely delighted" to have won the vote, ahead of Jenny Antill.
"My initial plans are to talk about the group, talk about the issues we've got... and how we're going to plan the next two years," he said.
Councillor Sandy Martin, leader of the Labour group, said he feared Mr Noble's leadership would see a "lurch to the right".
"I don't think that's what people voted for two years ago and I think it's a bit unreasonable to have a group running a council when they can't agree amongst themselves what they actually believe in," he said.
Mr Noble is expected to take over leadership of the council in May.