Suffolk's World War One Zeppelin raid remembered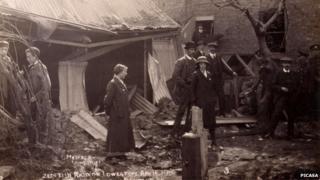 The aftermath of the first Zeppelin air raid on Suffolk in World War One has been marked a century later.
Houses were damaged, two men slightly injured and two horses and a sparrow died, in the night attack on Denmark Road, in Lowestoft in 1915.
Bob Collis, of the Lowestoft Aviation Society, said it was "a significant event county-wise" because it was Suffolk's first aerial raid.
He helped organise an event in the town to remember the bombardment.
Attending was Yvonne Lead, whose aunt Kate Crawford was the first person from Lowestoft to be killed in a Zeppelin raid in August 1915.
The 620 ft (189 metres) Zeppelin L5, captained by Alois Boecker, was heard near Dunwich on the night of 15 to 16 April.
It dropped its first bombs on Suffolk at Henham Hall and the railway station at Southwold, before attacking Lowestoft at 01:15 BST.
Houses in Denmark Road and a timber yard were damaged.
Mr Collis said: "There was an air raid siren and it was sounded some time before the Zeppelin was heard.
"But the British defensive system was very much in its infancy, with nothing like an effective raid reporting system.
"It took them two years before they shot down a Zeppelin on British soil, at Cuffley in Hertfordshire in September 1916.
"There was intense competition between the local photographers to take pictures of the damage the next day, to sell them as postcards."