Buttermarket shopping centre 16-screen cinema plan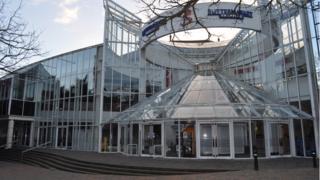 The new owners of an Ipswich shopping centre have reopened plans to create a cinema but with more screens.
The Vue chain was granted planning permission in 2012 to build a nine-screen venue in the Buttermarket but abandoned its plans in February.
The whole shopping centre was bought for £9.2m by two property developers last month.
Their new plans, submitted to Ipswich Borough Council, also include six restaurants.
The Buttermarket Shopping Centre, which opened in 1992, was bought by Capital & Regional and Drum Property Group from PR Ipswich Ltd.
Hugh Scott-Barrett, chief executive of Capital & Regional, said: "We believe our proposals will revitalise not just Buttermarket Shopping Centre but Ipswich town centre as a whole, by introducing a tailored mix of retail and leisure facilities."
If planning permission were granted for the extra screens, the owners would seek a cinema operator and national restaurant and retail chains to develop the project further.
"We have a real opportunity to develop Buttermarket into a vibrant shopping centre everyone can be proud of," he said.