Bury St Edmunds waste transfer station petition delivered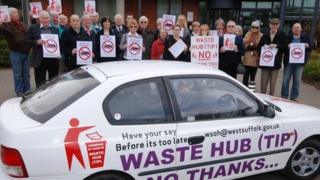 People opposed to a waste transfer site near their villages have delivered a 700-strong petition to council offices.
Suffolk County Council and St Edmundsbury Borough Council want to move existing waste sites in Bury St Edmunds to a single site.
Residents in nearby Great Barton and Fornham St Martin villages say the site is inappropriate but fear the plan is a "done deal".
But, the borough council said it was still at the consultation stage.
The county council originally wanted to build a waste transfer station next to the existing household waste and recycling centre on Rougham Hill, leading to objections from nearby residents.
The borough's proposal for an entirely new site, off the A143 and A134 at Hollow Road Farm in Fornham St Martin, has been put out to public consultation until 20 April.
'Done deal'
Delivering the petition Tom Dennis, a Great Barton resident, said: "The volume and impact of traffic on the local area [would be] absolutely enormous."
Frank Boggis, of Fornham St Martin, said: "The general feeling is that it is done deal and the council is going to push it through, no matter what."
A St Edmundsbury Borough Council spokeswoman said: "Understanding the concerns of the local community will help us to shape the detailed designs and proposals for the facility.
"Further work will take place on issues such as traffic impacts over the coming months."
The consultation would be followed by a more detailed planning application later in the year, the council said.