Leiston house stabbings: Two people bailed by Suffolk Police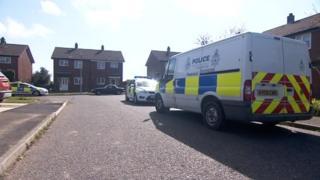 Two people, arrested in connection with two stabbings at a house in Suffolk, have been released on police bail.
An 18-year-old man from Saxmundham and a 27-year-old woman from Leiston were arrested over the weekend after a man and a teenager were found with stab wounds in two separate locations in Leiston on Friday evening.
Police said both were attacked at one address in the town.
The arrested pair are due to answer bail in May.
Officers were called at about 22:30 BST on Friday after reports a 26-year-old man had been stabbed in his upper body at an address in Farrow Close.
The force was also told a 16-year-old boy at a playing field in Harling Way had also received stab wounds.
Both victims were taken to hospital with what police said were non life-threatening injuries.
The 18-year-old man was arrested on Sunday on suspicion of causing grievous bodily harm with intent, while the woman was detained on Saturday on suspicion of conspiracy to cause grievous bodily harm.
The woman is due to return to Martlesham Heath Investigation Centre on 18 May, while the man is due to answer police bail two days later.