Cystic fibrosis boy's Facebook pills video gets 650,000 hits
An online video of a six-year-old boy swallowing tablets for cystic fibrosis has been viewed more than 650,000 times.
Heidi O'Brien, of Kesgrave near Ipswich, was trying to "bribe" her son Jesse to take his pills by promising to post a video of it on Facebook to see how many views it got.
She expected to get a couple of hundred hits and a few positive comments.
The video has taken off and won praise from the Cystic Fibrosis Trust.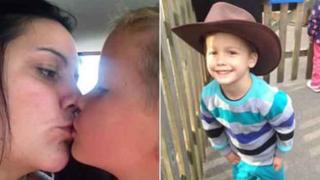 People with cystic fibrosis have to take medication to clear mucus in the lungs and deal with digestion problems, and Jesse must take about 40 tablets a day.
'Difficult regime'
Mrs O'Brien, 37, said: "Children with cystic fibrosis are used to it, but, like with brushing teeth, they get fed up and I'd been struggling to get him to take his pills one morning.
"I showed him videos on Facebook of animals doing crazy things, so I said 'I'll video it so all my friends can see how brave you are.'
"This is the way kids are today - they want a bit of limelight.
"I thought a couple of friends would say 'well done, Jesse', but I've had so many people contact me since Wednesday saying their children, who had been using syrup medication, now wanted to try tablets - the feedback has been unreal."
James Barrow, Cystic Fibrosis Trust spokesman, said: "It's great to see young people like Jesse raising awareness of cystic fibrosis.
"His video illustrates how young people living with the condition often have to undertake a lengthy and difficult regime on a daily basis just to keep well."
---
Cystic fibrosis
A life-shortening genetic condition, which slowly destroys the lungs and digestive system
Only half of people with cystic fibrosis live to celebrate their fortieth birthday
Cystic fibrosis directly affects around 10,000 people in the UK
The faulty gene is carried by over two million people in the UK
The condition is most common in white people of northern European descent
Affects one in every 2,500 babies in the UK
There is no cure
Source: Cystic Fibrosis Trust
---
Mrs O'Brien said she would need to think of the next bribe.
"He's already refused his medication this morning, but he's a good boy and he's just going through a little phase," she said.