Malaysian mangrove snake found in Ipswich box of timber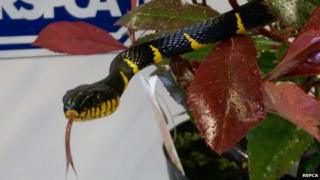 An "exotic" snake has been found 6,000 miles away from its home in Malaysia, in a box of timber in Ipswich.
The 3ft (1m) mangrove snake, which has yellow and black stripes, was discovered in a delivery of wood at a warehouse in Ransomes Europark.
Supervisor Jon Biscoe, 62, said: "It was a bit of a surprise seeing this colourful chap just sitting there - it was obvious he was too exotic to come from anywhere nearby."
The RSPCA is caring for the snake.
The snake, whose mild venom is harmless to humans, will be rehomed once back to full health.
Mr Biscoe said Friday's discovery was not the first stowaway at the warehouse.
"We've had dangerous spiders and even a cat before - so I knew just contain him and keep away," he said.
RSPCA inspector Jason Finch said the rear-fanged snake had no access to food or water, "so was very dehydrated and thin".
"He's a stunning animal," he said. "You don't get animal collections like this every day. It really made my week when I saw him."
The snake is a favourite of Deadly 60 presenter Steve Backshall, who called it "one of the prettiest snakes on the planet".