Suffolk cattle farmer Eric Moss of ARP Farms wins court appeal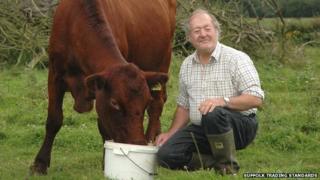 A farmer, fined for breaking mad cow disease regulations, has overturned a £83,000 compensation order.
Eric Moss, 72, of ARP Farms at Farnham in Suffolk, admitted four record-keeping offences and was sentenced at Ipswich Crown Court in 2013.
Appeal Court judges have now overturned the compensation order which related to the unlawful slaughter of cattle and sale of meat.
Moss's lawyers argued that he had never admitted those offences.
The farmer, who was well-known for promoting the rare Suffolk red poll breed of cattle, was fined £15,000 in 2013 for not correctly registering or recording the movements of livestock.
He was also ordered to pay £18,000 legal costs.
'Undoubted flaws'
The Appeal Court in London heard that Ipswich Crown Court Judge Karim Halil found that Moss had led a "criminal lifestyle" and unlawfully slaughtered 116 cattle.
Meat had been unlawfully "sold for cash" to pubs, restaurants and at farmer's markets.
But his lawyers argued that he had not pleaded guilty to these acts and he had received no financial benefit from the record-keeping crimes he admitted to.
They argued the confiscation order was "disproportionate or unfair".
Mr Justice Sweeney, Appeal Court judge, overturned the confiscation order and ruled that the court procedure followed in Moss's case was seriously flawed.
He said: "It is not possible for us to say what the result would have been if the various undoubted flaws had been avoided."
The Appeal Court also knocked £8,000 of his legal costs order.
In a separate case last year, Moss was fined £33,200 and ordered to pay costs of £14,000 for offences including failing to dispose of dead cattle correctly.