Nightclub owner Peter Crotty jailed for Adrian Williams death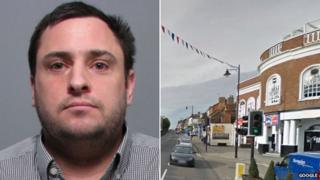 A nightclub owner has been jailed for four years for killing a man who was refused entry to his venue in Newmarket.
Adrian Williams, 51, from Soham, was turned away by bouncers from the Aura club at about 22:00 GMT on 27 December.
CCTV footage showed that owner Peter Crotty, 33, then shoved him, making him fall to the floor and sustain fatal head injuries from hitting the path.
Sentencing, judge David Goodin said it was "the act of an arrogant bully".
Mr Williams died at Addenbrooke's Hospital in Cambridge 17 days after the incident, Ipswich Crown Court heard.
Mr Crotty, of Nimbus Way, Newmarket, admitted manslaughter at a previous hearing.
'Adjustment disorder'
The judge said Mr Williams, who had been drinking, had not shown "the faintest indication of hostility" towards the door staff.
In mitigation, Andrew Shaw, defence counsel, told the court Crotty had served in the Army until he was injured when he was 21 years old.
He then provided private security for civilians in war zones before taking over De Niro's nightclub in Newmarket in 2010.
Mr Shaw said Crotty had an "adjustment disorder" and had been in touch with the Combat Stress organisation for former service personnel returning to civilian life.
The court heard Crotty had immediately walked away after shoving Mr Williams and, while his defence claimed he kept in contact with his bouncers, the prosecution said there was no evidence he made sure an ambulance had been called.
Crotty, who has a young daughter by a previous partner, had previous convictions for affray, threatening behaviour, harassment and breaching court orders.
The court heard that in police interviews, Crotty had claimed Mr Williams had visited him earlier in the day to deal with a debt issue, a claim dismissed by the judge.
The judge said: "You sought to blame Mr Williams, calling him an ugly enforcer for a creditor who tried to put the muscle on you at your house earlier that day.
"There was not a word of truth in those statements."