Ipswich Town owner Marcus Evans has photo with young fan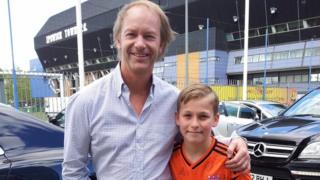 A reclusive millionaire football club owner has broken cover by posing for a photograph with a young fan.
Marcus Evans, who has a reported wealth of £765m, has owned Ipswich Town since 2007 but the club has never released any photos of him.
Darren Shenston said he saw him after Saturday's play-off semi-final against Norwich at Portman Road and asked if he would have a photo with his son Jake.
"I thought how nice and pleasant the chap was," Mr Shenston said.
Events management tycoon Evans has kept his identity a closely guarded secret since taking over at Portman Road. He rarely gives interviews and when he has it has been on the proviso that no recording would be used.
A photo purporting to be of Evans has circulated around the internet, and three years ago footage of him playing in a golf tournament was broadcast on Sky.
Mr Shenston, who lives in Walsall, said he recognised Evans from these images.
"We saw a nice Bentley and we saw him talking to one of the players, Stephen Hunt," he said.
"I said 'excuse me, are you Marcus Evans?' And he said 'yes',"
As well as posing for the photo, Mr Shenston's 13-year-old son asked him to sign his shirt.
"He was gobsmacked," he said. "He didn't think anyone would want a signature on a shirt - just the footballers'."
However, the club said Evans was not changing his stance on keeping a low profile.
Steve Pearce, media manager, said: "Marcus has always preferred to stay in the background and that won't change.
"He is not one to seek publicity and thinks the attention of the fans and the media should be on those on the pitch."
Carl Day, from the Ipswich Town Supporters' Trust, welcomed the interaction with fans.
"It's good to see he's embracing the fans," he said. "It's obvious that he's become a fan of the club since taking over."