Nesting birds put Orford post box out of action again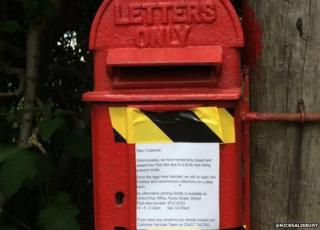 A post box in Suffolk has been put out of action for a second year in a row, after birds built a nest in it.
A family of tits set up home in the post box in Gedgrave Road, Orford, last year - and appear to have returned.
Royal Mail has put a note on the box, saying it has been sealed "due to a birds nest being present inside".
"Once the eggs have hatched we will reopen the Postbox and recommence collections on a daily basis," the sign adds.
A spokesman for Royal Mail said it was thought to be the same birds as last year.