Wrentham A12 crash: Van driver critical after bus collision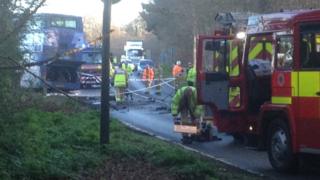 A van driver has been left with serious injuries after a crash with a double-decker bus in Suffolk.
It happened on the A12 at Wrentham just after 06:00 BST. The driver of the bus, which did not have any passengers on board, was treated for his injuries at the scene.
The air ambulance was called and the driver was airlifted to hospital in a critical condition.
The road has been closed and a diversion put in place.
Follow updates on this story and other Suffolk news