Major fire service shake-up in Suffolk 'rejected'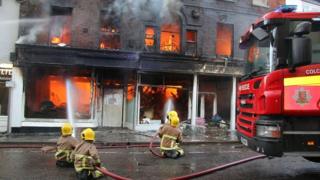 Plans for a major shake-up of the fire service in Suffolk, with the possible loss of 20 posts, have been rejected by the public.
The county council is looking at cutbacks to meet a government grant reduction of £1.3m by 2018.
Plans put forward in November also proposed scrapping seven of the county's 47 fire engines.
The Fire Brigades Union (FBU) welcomed the consultation results. The council said no decisions had yet been made.
Roy Humphreys, brigade secretary of the Suffolk Fire Brigades' Union, said he was "not surprised" by the public's opposition to the cuts and hoped the council would reject the reduction in services.
"We need to keep all our fire engines. We are already poorly funded and cannot afford to cut fire stations anywhere in the country," he said.
The Suffolk County Council consultation received 1,645 responses to a questionnaire, a report to the council reveals.
Of those who responded, 73% did not think the fire service had "adequately taken account of foreseeable risk in planning the future of the service".
---
County proposals for the fire service:
Cutting one on-call fire engine at Bury St Edmunds
Removing three fire engines in Ipswich and redeveloping the Princes Street Fire Station
Cutting one fire engine in Lowestoft
Replacing one fire engine in Sudbury with a rapid response firefighting vehicle
Closing Wrentham Fire Station
---
Twenty-two per cent thought the service had the right balance between fire prevention, protection and its emergency services.
Only one in 10 respondents believed it was "reasonable" to reduce the number of fire engines in Ipswich from six to three, with 85% disagreeing.
The council also received a 6,184-signature petition, organised by firefighters, opposing the cuts.
The council's cabinet member for public protection, Matthew Hicks, said: "I want to reiterate that no decisions have yet been made".
The authority organised a number of focus groups involving about 50 people and they showed more support for the "overall case for change" in the fire service.
The options for change would be presented under the Integrated Risk Management Plan on 17 May, said Mr Hicks.