Dominican Republic premature baby fund benefits Ipswich Hospital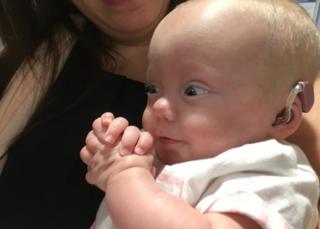 A UK hospital is to get £35,000 from a fund set up by the parents of a premature baby who had to spend three months in the Caribbean.
The parents started fundraising because they feared their holiday insurance would not cover the cost of health care in the Dominican Republic.
The insurers did pay, and part of the £65,000 raised will now be donated to Ipswich Hospital.
The latest donation was first reported in the Ipswich Star.
The rest will be given to public healthcare in the Dominican Republic.
Evie Compton was born about 12 weeks early on 28 September, weighing 2lb 10oz (1.2kg), when her parents Sharon Halls and Daniel Compton were on holiday, attending a wedding.
A stay at a private hospital left them unsure if they would have the funds to pay a £184,000 bill before they were transferred to a public hospital.
For more on this and other stories, visit the BBC Suffolk Live page
The couple decided to re-donate the money, which totalled about £71,000 before the fund-raising website took its share and some requests for refunds were honoured.
The family were able to fly home to Ipswich in January, but Evie- while otherwise healthy and now weighing 11lb 9oz (5.2kg) - has been diagnosed with moderate-to-serious hearing problems.
'She's our world'
Ipswich Hospital's neo-natal and paediatrics services will get £30,000 for its Sunrise Appeal, while the hearing unit will get £5,000.
Ms Halls, 37, said: "We've used the hospital for general check-ups and for Evie's hearing treatment and we'll be using it regularly throughout her childhood for testing and new hearing aids as she grows.
"Her development is now on track for her converted age - she's our world and we're very proud parents."
The donation meant the Sunrise Appeal reached its initial £100,000 target.
Kate Ashton, head of the Ipswich Hospital Charity, said: "There are even more items of equipment we would like to be able to buy for neo-natal and paediatric patients, so the appeal will carry on."