Felixstowe bungalow stab death woman named as Jean Ryan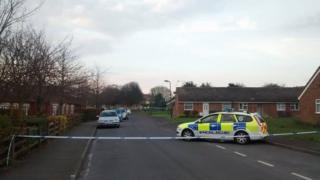 A woman who was found stabbed to death at a bungalow in Suffolk has been formally identified.
Police were called to the property in Felixstowe on 13 April after receiving a call from a woman in distress.
The woman, now revealed by police to be Jean Ryan, 67, from Gosford Way, was pronounced dead at the scene.
Her husband Shaun Ryan, 61, of the same address, was remanded by magistrates accused of her murder and is due at Ipswich Crown Court on Tuesday.
Suffolk Police said the distress call was made at 22:30 BST and officers arrived at the bungalow about five minutes later.
Paramedics were called out, but they could not save Mrs Ryan.
A post-mortem examination by a Home Office pathologist concluded the cause of death was a stab wound.
Mr Ryan was treated in hospital for injuries and was charged with murder on Saturday.