Council elections 2016: Labour holds Ipswich Borough Council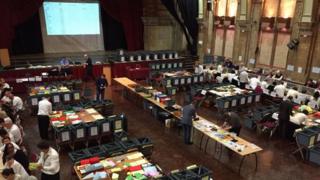 Labour has strengthened its hold on the only council it runs in Suffolk with two gains at the expense of the Tories.
The party regained control of Ipswich Borough Council in 2012 and before Thursday's vote it held 31 out of the 48 seats.
Seventeen seats were up for grabs election and Labour now has 33 councillors.
The Labour council leader David Ellesmere retained his seat in the Gipping ward.
Mr Ellesmere failed in his bid to become Ipswich MP in the 2015 general election - losing out to the sitting Conservative MP Ben Gummer.
The turnout was 33%.
Follow events across the region at the BBC Elections 2016: East of England page