Norfolk and Suffolk Police receive 500 firearms during amnesty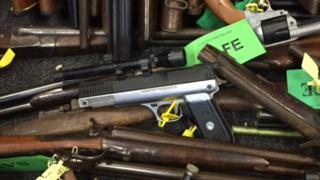 Almost 500 firearms and a large quantity of ammunition have been handed in to police during a two-week amnesty.
In Suffolk, 208 firearms were surrendered while in Norfolk 280 were given up. A number of imitation and deactivated weapons were also received.
Firearms manager Richard Kennett said the forces were "extremely pleased" with how many weapons were handed in.
The guns will either be destroyed or donated to a licensed museum if they are of particular historical value.
Mr Kennett said: "We had 225 shotguns handed in, as well as 38 hand guns, including a number of self-loading pistols, an AK47 fully automatic assault rifle, and even a walking stick gun.
"Although gun crime isn't a big problem in our counties, it's important we take measures such as this to reduce the chances of dangerous weapons falling into the wrong hands."
Firearms examiner Ernie Cole, an officer with the National Ballistics Intelligence Service, said the weapons would be cut in to small pieces before they were taken to a metal scrapyard.
"We do not ever turn guns away, so if anybody is sitting with anything at home now, having sleepless nights over it, they can bring this into Suffolk Police at any time", he said.
"You don't have to wait for an official amnesty to hand stuff in or surrender. There's no need for people to have this stuff at home."