Babergh's new leader pledges fresh merger referendum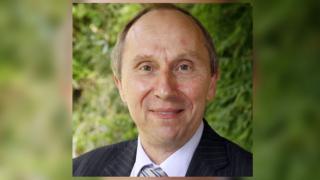 A council's newly-elected leader has pledged that there will be a second public referendum on a full merger with a neighbouring local authority.
John Ward has been voted in as the leader at Conservative-run Babergh District Council.
It follows tensions at the council over plans to merge with Mid Suffolk District Council, which led to Jennie Jenkins stepping down last month.
In 2011, Babergh residents voted 61% to 39% against the merger.
Since then the two councils have begun sharing many services - including one chief executive, integrated departments and the headquarters of both moving to Ipswich, which is not in either district.
However, the two authorities have retained their separate political structures and councillors.
'Great exception'
Ms Jenkins resigned as Babergh leader following an opposition motion critical of the failure to commit to a second referendum.
Babergh's full council met on Thursday and Mr Ward was the only nominee for leader.
He said the council was currently putting together a business case for the merger.
"The public will have that vote once we have all the information, so they can be in a very informed position," he said.
Tony Bavington, Labour group leader, said: "I and other members took great exception to the attempt by the Conservative cabinet to merge when we had a clear majority of the public voting against it in 2011.
"There has to be another referendum before any merger."
David Busby, Liberal Democrat councillor, said: "Most of us think we should be looking beyond merger and looking at unitary councils."