Rector Martin Thrower struck off for filming teen in toilet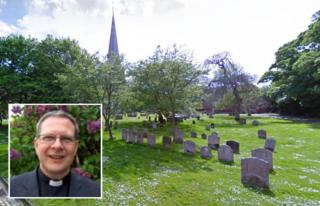 A clergyman who filmed a teenager in a public toilet has been struck off for seven years, it has emerged.
The Very Reverend Martin Thrower, 56, Rector of Hadleigh, Suffolk, was given a suspended jail sentence for two counts of voyeurism in August 2017.
The Diocese of St Edmundsbury & Ipswich held its own disciplinary process in October, but has only just informed the BBC of the outcome.
It said it will review its decision not to publicise the ban.
Diocese spokesman John Howard said Thrower was removed from his post as Rector of Hadleigh and barred from ministry as a Church of England priest.
He said after that time, he could re-apply, but an independent safeguarding risk assessment would have to be carried out.
"Although none of his offences took place at church, or in connection with his church role in any way, the Church of England in Suffolk takes safeguarding very seriously and is committed to making all of its churches a safer place for all," said Mr Howard.
Gavin Stone, diocesan head of safeguarding, said that, legally, they do not have to publish the results of internal disciplinary processes.
He said they were "open and transparent", but would be "open to reviewing this case".
'Noises from above'
Thrower initially denied the voyeurism charges but changed his plea.
Norwich Crown Court heard he held his mobile phone over the top of a toilet cubicle at the Buttermarket shopping centre in Ipswich.
The 17-year-old youth heard a noise above him while he was sitting on the toilet, the court was told.
Thrower's four-month prison sentence was suspended for 24 months.
He was ordered to complete a 60-day course to address sex offending behaviour, and must attend a further 30-day rehabilitation course.