'Beast from the East' drives up Suffolk gritting costs by £1m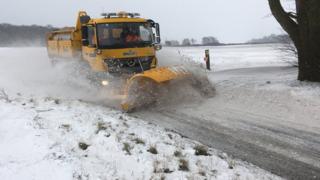 The severe winter weather, dubbed the Beast from the East, helped drive up gritting costs by more than £1m in Suffolk, says a new report.
In 2017-18 there were 187 gritting runs - the highest number of runs over the last seven years.
It cost Suffolk County Council £2.8m, compared to the 102 runs in 2016-17 which cost £1.8m.
A report to the council says the gritting teams were "severely tested", but showed "tremendous resilience".
The severe weather, which caused disruption across England in late February and early March this year, left some rural areas cut off.
The report to the council's scrutiny committee, which meets on Tuesday, 1 May, said the freeze will have caused "extensive damage" to the county's roads.
Repairing potholes could cost the council another £1m to £2m.