Ipswich Borough Council elections 2018: Unitary council debate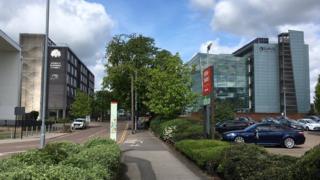 Proposals for a unitary Suffolk authority have sparked fierce debate in the Ipswich Borough Council elections.
Suffolk County Council has asked think-tank ResPublica to look at "the merits of Suffolk making a bid to the government for a reformed system".
One option could see district councils, including Ipswich, and the county council merge powers into one authority.
At present local services are split between the county and seven districts.
David Ellesmere, leader of Labour-controlled Ipswich Borough Council, said he was opposed to any plans for a unitary Suffolk council, but backed a unitary council for Ipswich which would provide all the services for the town, including those currently provided by the county council.
"We think that an authority the size of Suffolk would not look after Ipswich's best interests," he said. "One of the reasons we are successful as a borough is that we are 100% urban.
"We are the only council in Suffolk that still does not charge for bin collection, the only one in Suffolk that has an out-of-hours noise service and an out-of-hours alarm call service [for vulnerable people in care homes]."
Ian Fisher, leader of the Conservative group at Ipswich Borough, said: "My personal feeling is that Ipswich is under-presented at a county level.
"I am happy there is a debate. I am in favour of a greater Ipswich unitary authority. Ipswich needs a good strong voice.
"I think Ipswich council is bloated with 48 councillors. We need to reduce that by a third. That could save £250,000."
Inga Lockington, the leader of the Liberal Democrats at Ipswich Borough, said: "I think unitary authorities are better than the two-tier system we have, but not a unitary authority for the whole of Suffolk.
"There could be unitary councils with one with Ipswich at its centre and one centred on Bury St Edmunds and one centred on Lowestoft.
"Residents often don't understand the different responsibilities of councils. They pay council tax to Ipswich so they think that Ipswich is to blame [even if the county council provides the particular service]."
Suffolk's two-tier local government system
The county council, with headquarters in Ipswich, spends about 80% of a household's council tax and provides services including schools, social services, highways, waste disposal/recycling and libraries.
The seven district councils spend about 20% of the council tax and provide services including planning permissions, social housing and waste collection. The districts are:
Babergh District Council
Forest Heath District Council
Ipswich Borough Council
Mid Suffolk District Council
St Edmundsbury Borough Council
Suffolk Coastal District Council
Waveney District Council
All districts, except Ipswich, are already sharing the provision of many services with one other district, while maintaining separate councillors - Babergh/Mid Suffolk; Forest Heath/St Edmundsbury and Suffolk Coastal/Waveney.
'Huge savings'
Tony Gould, chairman of the UK Independence Party in Ipswich, said: "I think a unitary authority for Suffolk is a brilliant idea. I don't understand why we have 48 [Ipswich Borough] councillors.
"We could have a smaller number of councillors and we could make huge savings.
"It would also mean we would have a unified view across the area, so we don't have different parts of Suffolk under different authorities."
Andy Patmore, a spokesman for the Ipswich Green Party, said: "We are convinced that a large, all-purpose council would be less representative and increase voter alienation at a time when we need greater democratic engagement.
"A Suffolk Unitarian Authority would cover such a large area we believe it would be too diluted to properly represent everyone in the county.
"We would, however, be in favour of an Ipswich unitary authority. With the decision-making process closer to the people they affect [it would] build a closer relationship between the authority and those people they represent."
Ipswich Borough Council has 16 of its seats up for election. Polling booths are open 07:00-22:00 BST on Thursday, 3 May.