'Organised gang' targets mobile phone shops in Surrey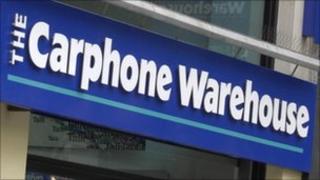 An organised gang may be responsible for a string of mobile phone shop burglaries in Surrey, police believe.
Surrey Police said thieves stole equipment worth more than £40,000 from a phone shop in Dorking on Monday.
Officers said five men wearing balaclavas forced their way into Carphone Warehouse in High Street at 2050 GMT.
Police have linked the incident to two similar raids on phone shops in Epsom and Cobham.
On 18 January, burglars stole more than £41,000 worth of equipment from the Orange store in High Street, Epsom.
'Organised gang'
The following day, a gang broke into Carphone Warehouse in Oakdene Parade, Cobham, and stole more than £40,000 of mobile phones.
In the latest incident, the men emptied expensive mobile phones into black bins before fleeing the scene in two vehicles.
Det Insp David Cooper said: "We are keeping an open mind regarding the same organised gang being responsible.
"If you know of someone selling state-of-the-art electrical equipment at knock-down prices I want to hear from you."
Police said one of the suspect vehicles had a registration number AU10 YVV, while the second had a partial registration of either CV09 or GV00.