Shepperton eco park plan rejected by councillors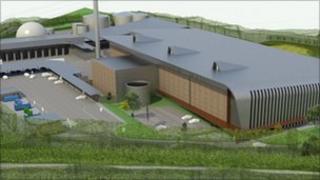 Borough councillors in Spelthorne have unanimously rejected Surrey County Council's plans to extend a waste and recycling plant in Shepperton.
They said said they could not support plans which did not satisfactorily show there were "very special circumstances" to build on a greenbelt site.
SITA Surrey put forward the plans on behalf of the council, saying the site would divert waste from landfill.
Surrey County Council will make its final decision on 25 February.
The facility would be used to heat waste to produce gas for energy and process about 60,000 tonnes of household waste every year.
Councillor Howard Thomas, chairman of Spelthorne's planning committee, said: "We have decided that we wish to express a very strong objection to what is proposed, primarily because it's a greenbelt site.
"What is proposed is a very much larger building than what is there and that will have a very considerable impact, a very visible impact, on its surroundings."
Quality of life
Local residents have also said the location of the proposed "eco-park" in Charlton Lane will impact on their health and quality of life.
But Gareth Phillips, SITA's planning manager, said the site was the right one for Surrey.
"The other sites that are in this area that are also allocated are also greenbelt sites.
"We need to bear in mind what the alternatives are, and the only available alternative sites are equally greenbelt sites as well."