New M25 services in Surrey expected by end of 2012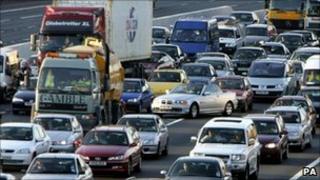 Work on roads linking the M25 to a new service area in Surrey is expected to begin in April after requests for a public inquiry were turned down.
The new service area on the south side of the M25 at New Barn Farm, Cobham, will be between junctions nine and 10.
Work on the link roads is expected to be completed by next summer.
Objectors to the link roads were told by the Department for Transport on Tuesday there would be no public inquiry and work was to go ahead.
Elmbridge Councillor John Butcher was among objectors to the construction, which he said would be impossible without major disruption.
He said he was disappointed there would not be a public inquiry.
The Highways Agency said a 50mph speed limit would be in place while the roadworks were carried out.
Planning permission was granted for the new service area in 2005.
Westbound traffic will have direct access while eastbound vehicles will travel under the M25 to the south side.
The new service area is not expected to be operational until the end of 2012 at the earliest.