Countess of Wessex opens Staines housing project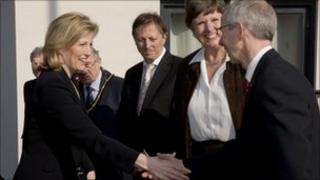 The Countess of Wessex has officially opened a housing project in Surrey which will provide accommodation for eight vulnerable people.
The countess is the patron of Surrey Community Development Trust (SCDT), which runs the property in Kingston Road, Staines.
Lucy Jones, who was referred to SCDT after difficulties at home, told the countess how the trust supported her.
She said she went back into education and hopes for a career in youth work.
"I honestly don't know where I'd be now without the help SCDT have given me. It's helped me realise there is a future," she said.
SCDT was founded in 1972 and has worked in Spelthorne since 1992. It currently provides supported accommodation for 127 people in the area.