Plans to curb visitors to outdoor sex lay-by in Surrey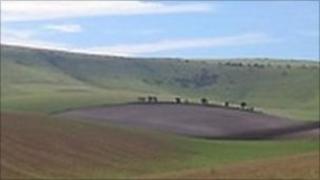 A new proposal to prevent people meeting for sex at a popular Surrey beauty spot have been put forward.
Villagers in nearby Puttenham have said the fields near Hog's Back are used for sexual activity throughout the day.
Local councillors have suggested installing a £81,000 barrier to restrict access to the lay-by.
Councillor Mark Brett Warburton said: "It's not an ideal solution but it restricts the hours and helps in general."
Local councillors had wanted to close the A31 lay-by permanently, which leads to the area of natural beauty on the North Downs.
'Arrive on spec'
But Surrey County Council refused last August, saying restricting access was unfair on legitimate visitors and would have a negative impact on a nearby cafe.
Mr Brett Warburton said: "The idea is that the barrier would be brought down after the cafe closes at about three o'clock in the afternoon and stay closed until six o'clock.
"It means that the business can stay open and remain as a viable business but it limits the public access to this lay-by."
Campaigner Lydia Patterson welcomed the proposal.
She said: "We have people wondering around the fields above our village darting in and out of the bushes and the woodland and sometimes actually engaging in sexual activity that we can see, not only when we're walking but from our homes.
"People will just arrive on spec and walk around the area looking for somebody else who is doing exactly the same thing.
"Everybody realises that this activity is wrong and shouldn't be taking place so close to an infants' school."
The proposal will now be put to Surrey County Council for approval.