Bible reading marathon takes place in Aldershot church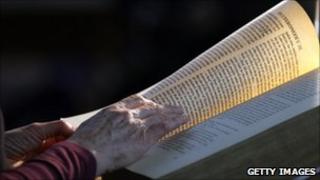 A Surrey church will hold a bible reading marathon to celebrate the 400th anniversary of the King James Bible.
Members of the Holy Trinity Church, in Aldershot, will publicly read the whole Bible, starting on Friday 28 March.
It is predicted to take six days, with continuous reading taking place between 9am and 9pm.
The event is being used celebrate the anniversary of the King James version of the Bible and the public have been invited to drop in at any time.
Vicar, the Reverend George Newton, said: "The church is based on the words of the Bible, which have changed millions of lives - there's something symbolic about reading it out cover to cover.
"Some of the English used in 1611 is a little difficult to understand today, so the reading at Holy Trinity will be from a more recent translation.
"The original translators wanted everyone to understand what the Bible says, and would have welcomed the newer versions available in modern English today."
The Archbishop of Canterbury Dr Rowan Williams said the King James Bible still had the power to surprise and shock its readers, and provided a context for their lives.
He said: "This year's anniversary is a chance to stop and think about the big picture - and to celebrate the astonishing contribution made by that book 400 years ago."
A new translation of the Bible was proposed at the General Assembly of the Church of Scotland at Burntisland in Fife, attended by King James VI, in 1601.
The translation was commissioned following the Hampton Court Conference in 1604 - by which time James had become James I of England - and was published in 1611.
Also known as the Authorised Version, The King James Bible went on to become the dominant edition in the English-speaking world.