Opposition grows to Surrey's parking charge proposal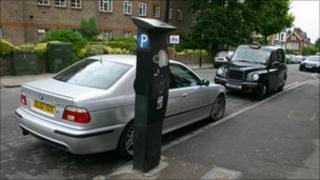 Businesses leaders have stepped up their campaign against council plans to introduce charges to thousands of free parking bays outside local shops.
Oxted Chamber of Commerce has written to Prime Minister David Cameron asking him to look into the decision.
Surrey County Council has identified about 3,500 on-street parking spaces where charges could be implemented.
More than 13,500 people have signed a petition on the council's website against the proposal.
'Kill off shops'
In a letter to Mr Cameron, Paul Dashwood, who chairs Oxted Chamber of Commerce, said shoppers would head to superstores where parking is free.
He said: "Surrey County Council has financial difficulties so it wants to impose on-street parking charges in towns and villages to try to raise some money.
"Chambers of Commerce are horrified and so too are local people because these proposals are likely to kill off shops and businesses already struggling with the recession."
The Conservative-controlled council has said the parking service last year made a £500,000 deficit, which is not sustainable.
Councillor Ian Lake has previously said it would be unfair to expect Surrey residents to foot the bill through their taxes.