Guildford men set for 125-mile run across Scotland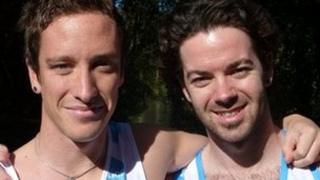 The thought of running one marathon is enough to bring fear to the heart of many seasoned runners.
But two men from Guildford, Surrey, have decided to run the equivalent of nearly five marathons over some of the most punishing terrain in Britain.
Matt Buck and Matt Sims are gearing up to run the width of Scotland for children's charity Action Medical Research.
The pair will start in Oban on the west coast and finish at St Andrews on the east coast, covering a total of 125 miles (201km).
The men, both 28, believe it will take them five days to complete the hilly route in August.
Mr Buck, who also works for Action Medical Research, said: "I'm nervous, but definitely excited at the same time.
"The training is going fairly well. I think I'm more nervous about picking up an injury that will stop us doing it.
"A lot of people cannot even walk after one marathon. That will be the biggest challenge - getting up the next day and starting out again."
Rarer diseases
The pair, who are best friends, are hoping to raise £10,000 through sponsorship and will also be putting on a charity comedy show at the Electric Theatre, in Guildford, on 3 May.
Mr Buck said they hoped to support the valuable work done by the charity.
"Working for the charity I see the good work that they do and have met people that the work has directly affected," he said.
"A lot of money goes on research into premature birth and the reasons around it.
"The charity also concentrates on a lot of rarer diseases that other charities don't fund."
They will also both be running the London Marathon this year, which Mr Buck said would be training for the coast to coast run.
"During the summer we're planning to do a couple of 25 mile (40 km) runs back to back over a weekend," he added.
"We're quite strong-minded people and best mates so we will help each other through."