East Surrey Hospital alert after winter bug strikes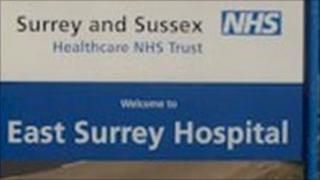 Health bosses in Surrey trying to prevent the spread of a winter vomiting bug have asked people visiting hospital patients to take extra care.
East Surrey Hospital at Redhill had 21 cases of norovirus last week, though numbers have now fallen.
Deputy director of public health at NHS Surrey, Helen Atkinson, said it was "fairly usual" to see outbreaks of the vomiting bug at this time of year.
She said hand washing and cleaning surfaces would help stop it spreading.
Norovirus causes a sudden attack of vomiting, often accompanied by diarrhoea and stomach pains.
The illness usually lasts a few days and most people recover by resting and drinking plenty of liquids.
Ms Atkinson said it was unlikely there would be a ban on visitors at East Surrey Hospital.
"But we would encourage everyone to use good prevention," she said.
"And if you do have symptoms, please avoid going into hospital or residential or care homes to visit family and friends."