Surrey councillors row as parking fee motion deferred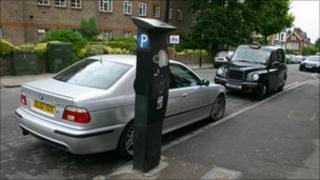 Tory politicians in Surrey have been accused of "cowardice" and refusing to take part in a public debate over plans to introduce on-street parking charges.
The Liberal Democrats made the claims after a motion they put forward for the parking plans to be scrapped was deferred at a meeting on Tuesday.
Conservative leader Dr Andrew Povey said it was inappropriate to debate the plans while consultation was ongoing.
He said the opposing groups were "politicking" ahead of May's election.
Independent and Residents Association (RA) councillors who have sided with the Liberal Democrats have criticised the plans as a "money-grabbing" scheme.
A petition against the plans has now gathered more than 23,000 signatures.
'Massive opposition'
Proposing the motion, Liberal Democrat Councillor Stephen Cooksey said the plan was an unnecessary blow to market towns and villages during a time of economic difficulty that would hit small businesses, discourage visits to local shops, and put pressure on overcrowded residential streets.
After the meeting, he said: "There is massive opposition to these proposals, but rather than face the criticism in a public debate, the Conservatives have chosen to hide away and stifle debate until after the coming local elections."
Liberal Democrat Councillor John Orrick added: "Refusing to debate is a cowardly action which indicates quite clearly how insecure their argument is."
But Dr Povey said: "We don't think it's appropriate to have a debate halfway through consultation. We are still collecting views from the public. We will have a debate and no problem about that whatsoever."
'Pledge to listen'
He added: "They [the Liberal Democrats] are just politicking and trying to make it an issue before the election. They are not genuinely interested in the people of Surrey at all."
A statement from the RA and Independent group said 46 Tories present voted not to debate the motion at Tuesday's meeting, and 23 opposing votes were not enough to have the motion discussed.
RA Councillor Eber Kington said: "If the Tory-controlled county council is serious about listening to the result of consultation then these on-street parking proposals should go no further."
A further statement from the Tory group said the Conservative administration had pledged to listen to the views of residents, businesses and stakeholders and a special task group had been set up to look into the implementation of the charges.