Goodwood body find family 'devastated'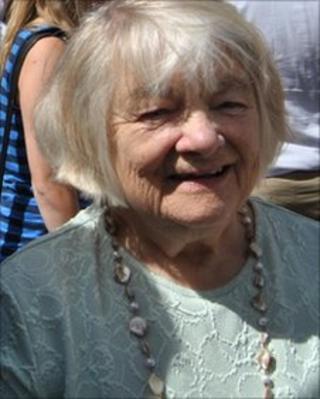 The family of a 78-year-old woman whose body was found in woodland on the Goodwood estate in West Sussex have said they are devastated by her death.
Police said that, although formal identification had yet to take place, the body found on Thursday was thought to be that of Brenda James.
Mrs James, who lived at Lakeside Caravan Park in Chichester, was found following a police search.
Her son, aged 50, who lived with her, is being held on suspicion of murder.
"Until the body is formally identified we cannot confirm that it is Brenda James, but all our enquiries indicate this is the case and we have updated the family accordingly," said Det Chief Insp Nick May.
Her daughter, Nichole James, who lives in Sweden, said that her mother spent most summers and Christmases with her family there.
"She had a close circle of her own friends here and was much loved and admired for her attitude to life and her sociable ways," she said.
"Her grandchildren in Sweden had the good fortune to spend more time with her than most do with their nanna.
"When she was here she treated every day as a holiday, filling her time with gardening, crossword puzzles and socialising."
'Extremely popular'
Mrs James also had close family in Cleethorpes, North East Lincolnshire, who are said to be "devastated".
"At home in Chichester, we know mum will be sadly missed by all those who knew and loved her," said her daughter.
"She was extremely popular locally, with a wide circle of friends who she met with regularly to play bridge and enjoy other hobbies.
"Her untimely death has been a shock to us all and we are at a loss for words to describe how we feel. We miss her."
Mrs James was reported missing on Tuesday by friends who were concerned that they had not heard from her for several days.
Her son was arrested on Wednesday morning and police began searching a large area of woodland shortly afterwards.
Mr May said police were working round the clock to establish the circumstances surrounding Mrs James' disappearance.