Surrey roads given £4.18m budget boost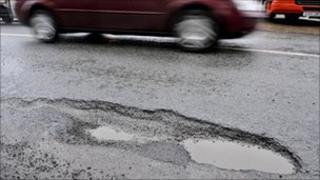 An extra £4.18m in government money has been allocated to Surrey for road repairs across the county.
The funds are Surrey's share of £200m set aside by the government in the budget for road repairs across England.
Councillor Ian Lake, cabinet transport spokesman, said the council had been lobbying hard for the government to invest in Surrey's roads.
Last month, Mr Lake said about £400m was needed to bring Surrey's road network up to scratch.
Next year, Surrey will host Olympic cycle events and London 2012 organisers have demanded repairs before competitors pass through the county.
Mr Lake said: "We've been lobbying hard for the government to recognise the importance of investing in Surrey's roads. It's money we can put to use quickly for the good of Surrey residents and businesses."
He said the council was already investing £16.3m in road improvements in 2011-12 which was enough money to pay for 200 miles (322km) of resurfacing.
He added: "This extra funding from government will allow us to do much more and go some way to making good the damage caused by the worst winter in 100 years."
County council leader Dr Andrew Povey said investment in roads in the South East was vital because the region was "the engine room of Britain's economy".
The council said Surrey had the third highest traffic levels in Britain compared with other authorities. Hampshire had the highest traffic levels, followed by Kent.