Six-week-old micro-piglets stolen from Surrey property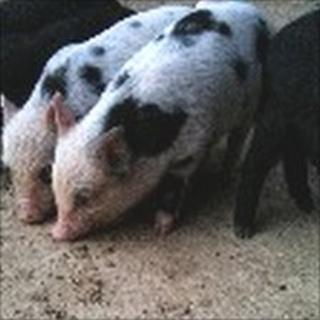 Seven six-week-old micro-piglets, worth about £700 each, have been stolen from a property in Surrey.
They were taken from an address in Capel between 1830 BST on Sunday and 0830 BST on Monday along with two other piglets, which have since been found.
The animals were stolen after the owner had advertised them for sale.
A 17-year-old boy was arrested on suspicion of burglary and freed on bail after two micro-piglets were found at an address in Shepperton on Wednesday.
Police said of the missing piglets, four were black, two were pink and black spotted, and one was pink.
Red marks
They belong to Amanda Taylor, who has been breeding micro-piglets for two years.
She said their theft had left her children devastated.
"We are all massively upset by this as the piglets are still very young to be moved especially if it is not done properly.
"Following their vaccinations the piglets were marked with red spray and I would ask anyone who has seen our micro-piglets, bearing these red marks, to come forward.
"Breeding micro-piglets is a hobby for all the family, they are our pets and grow up with the children."
Anyone offered a micro-piglet for sale is asked to contact Surrey Police.