Golf seniors heading to Surrey's Walton Heath club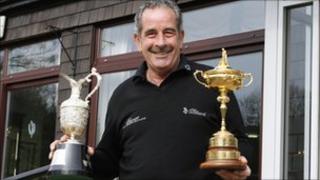 Some of the most prestigious names in golf will battle it out at a Surrey course this summer.
The 2011 Senior Open will take place at the Walton Heath Golf Club.
Former Ryder Cup winner Sam Torrance, US Masters winner Sandy Lyle and Bernhard Langer, the second most successful player ever on the European Tour, will play during the contest between 21 to 24 July.
The course hosted the Ryder Cup tournament in 1981.
Torrance, who made his tournament debut that year, said one of the strongest ever US teams was fielded to beat the Europeans and that the course was "beautifully proportioned".
"I played my first Ryder Cup here in 1981 it was a happy memory in some ways, but we got hammered," he said.
"I played five European Opens at Walton Heath and I've always enjoyed playing here."
It will be the first time that Walton Heath hosts the Senior Open.
Andy Stubbs, who is managing director of the European Senior Tour, said the course has a "wonderful history".
He said: "The Senior Open has traditionally gone to Open Championship rota courses like Turnberry and Muirfield, but the history is there and it's the 30th anniversary of the 1981 Ryder Cup."
Organisers at the club have begun preparations for the week and more than 100 volunteers have been enrolled as marshalls and stewards.
Simon Craig-Chapman, from the Walton Heath club, said it is capable of dealing with the expected demand from golf fans.
He said: "We are expecting bigger crowds so we are having to expand our infrastructure but we have the capacity."