Augustus Pugin chapel will open to public over Easter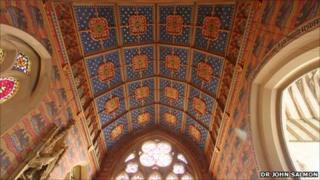 A hidden chapel designed by renowned architect Augustus Pugin will open to the public for one day over Easter.
The south chapel of St Peter and St Paul's Church, in Albury, Surrey, was renovated by Pugin in 1846.
He was credited for designing much of the lavish gothic interior of the Palace of Westminster.
The chapel is usually closed to preserve the delicate paintwork but the Churches Conservation Trust will open it on Easter Sunday.
With its elaborate painted ceilings and stencilled walls the decoration of the chapel is in direct contrast to the rest of the plain Saxon church.
'Genius'
John Vigar, from the trust, which manages the church and 340 others across the county, described Pugin as a "genius".
"All of our churches are important in their own way but this is a very rare example of Pugin working on an Anglican church," he said.
"Pugin was still a youngish man and had a big reputation. But most of the work he did was on Roman Catholic churches as he was Catholic himself."
In the mid-19th Century Henry Drummond, the owner of Albury Park, where the church sits, decided to close it to the public and build a new church farther away from his house.
"He took over responsibility for the old church and turned the south chapel into a burial chapel for him and his descendants, that's why he employed Pugin," said Mr Vigar.
"This meant he could be buried with his family under the floor rather than with the hoi polloi."
The conservation trust took over the management of the church in 1974.
The chapel will be open from 1030 to 1630 BST on Easter Sunday.