Thames Water fined for Basingstoke Canal pollution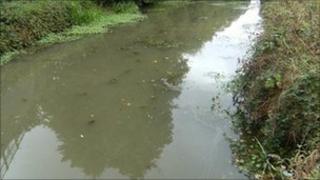 A water company has been fined £12,000 after admitting allowing untreated sewage to enter a Surrey canal.
The Environment Agency investigated after more than 200 fish were found dead at the Basingstoke Canal in Woking in September 2009.
Thames Water admitted at Woking Magistrates' Court. to allowing pollution to enter the canal.
In a statement, a spokeswoman for the company said it admitted responsibility for a "deeply upsetting incident."
She said: "Any pollution incident is one too many and although these are few and far between, we continue to work to eliminate them all together."
'Gasping for life'
Following the incident, the company spent £40,000 to restore the quality of the water and investigate the cause, she added.
Readings taken by the Environment Agency at the time found high levels of oxygen and ammonium. The number of dead fish included roach, bream, perch and gudgeon.
The agency said the pollution was caused by a sewer that had not been maintained properly.
Ruth Clayden, of the Environment Agency, said: "This was a distressing incident and it was upsetting to see so many fish either dead or gasping for life.
"The area is popular with anglers due to its urban location, and is fished regularly."
Thames Water was fined £12,000 and ordered to pay £5,000 costs at the court on Friday.